HYER Big E™ Rig
A REVOLUTIONARY NEW WAY TO TRANSFORM YOUR GLASS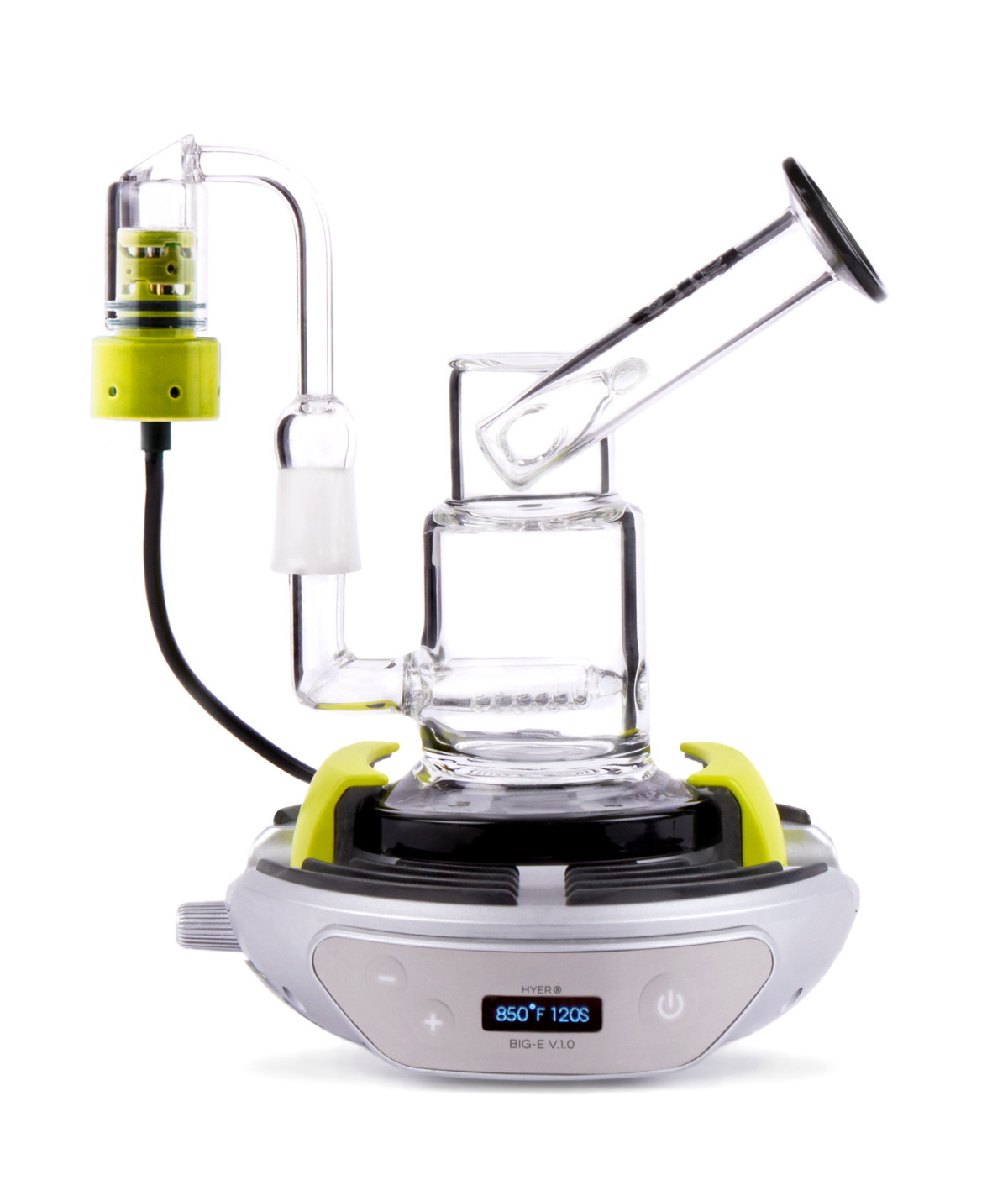 The Future Of Rigs Is Here.
The HYER Big-E™ is a revolutionary device that transforms almost any glass rig into a portable, hi-tech e-rig. Torch-free technology eliminates use of a butane torch from the equation and provides heat via a ceramic element. The expandable base allows the Big-E to house practically any glass water pipe, from flat base to beaker.
Buy Now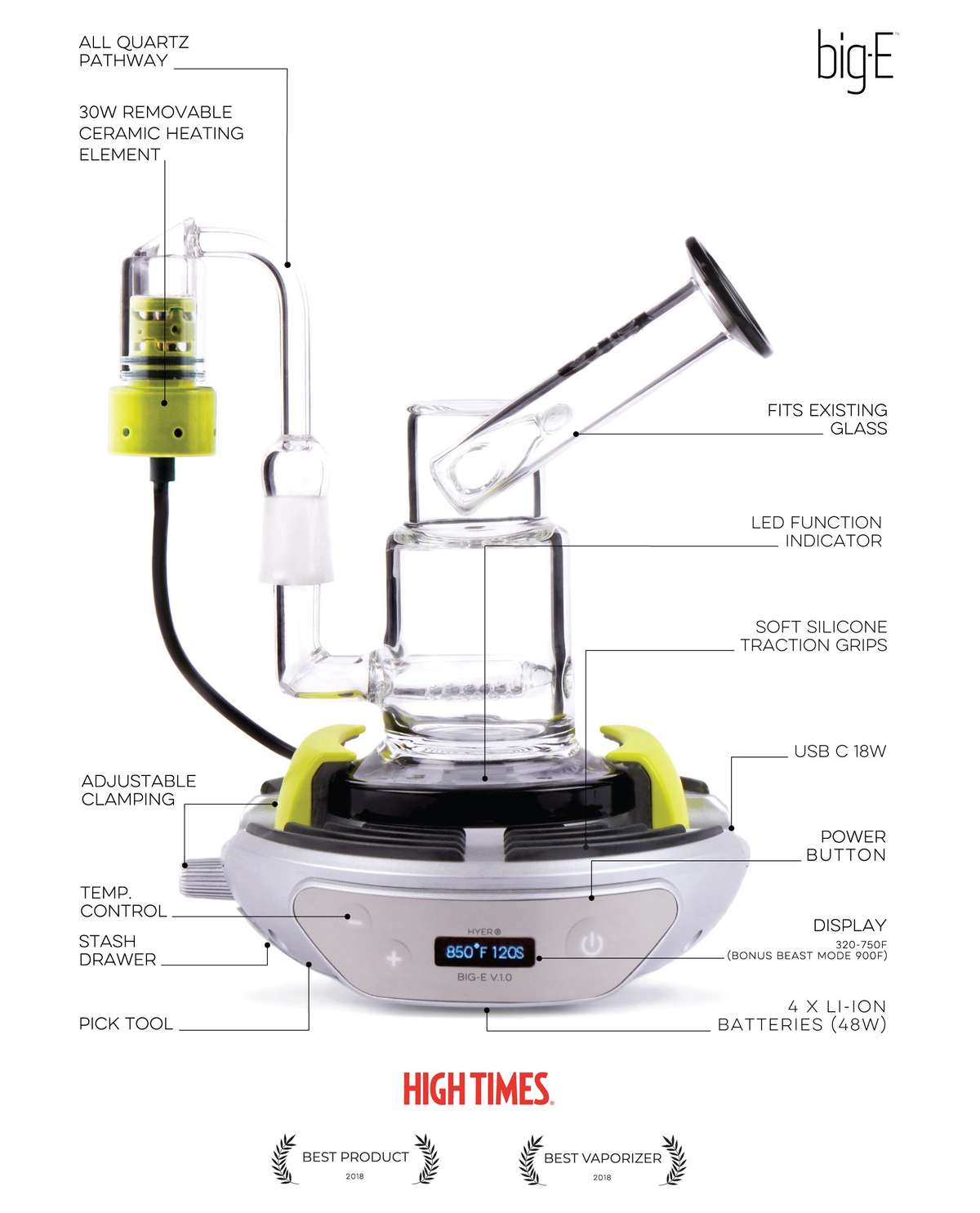 The Proof Is In The R&D
HYER's first release is the result of three years of R&D with taste science and how material aromatics are best consumed. Meet Big-E™, their patent pending, non-porous, quartz glass vaporization element with ceramic heating. Free of nasty glue, plastics and foul taste. Big-E™ removes the need for a torch and eliminates combustion.
Quartz Glass
Retains the heat and offers fantastic temperature stability and unmatched flavor.
The first iteration of Big-E™ uses their quartz glass vaporization element with a removable integrated 30W heater with an internal diameter of 0.46"/11.8mm. Because it's made from pure quartz glass, it takes 90 seconds to heat up from room temperature, but once there, it retains the heat and offers fantastic temperature stability and unmatched flavor.


Great for low temperature use, coupled with the carb cap. The Big-E™ base, a patent-pending docking station with elastomeric traction grips your treasured Glass securely and electrifies it - no matter where you're going.


Lastly, you're no longer limited by the need for electric power and an extension cord. Now you can travel around your house (or backyard, beach or party) without being tethered to a wall. So let it rip on the move.


Power, Performance, Dependability.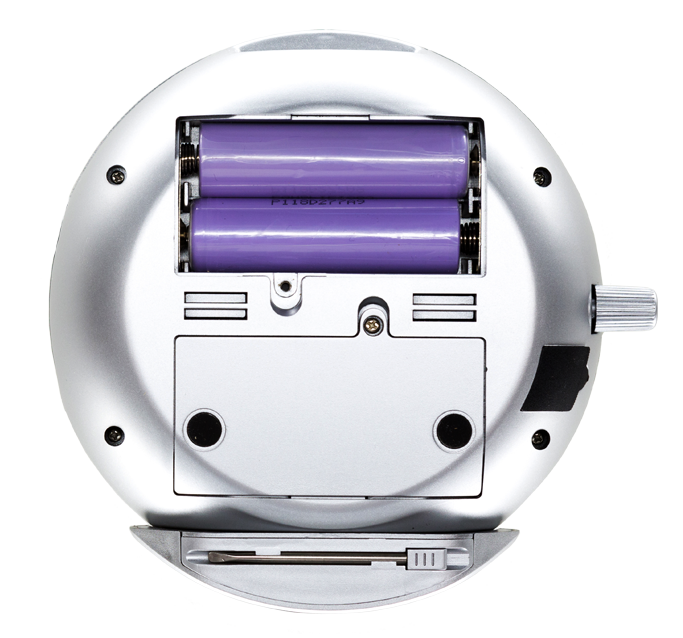 Hands down, this is the most powerful portable on the market. Packed with 48W of portable power, enjoy up to 25 sessions or 2 hours of continuous use on a single charge.
Our adjustable session time is perfect for high-volume use in social settings - and for dialing in your preferred session length for personal use.



Largest battery capacity of any portable enail on the market



2 hours of continuous use / up to 25 sessions
10 bit ADC precise temperature sensing
Stabilizes at your own temperature faster than using a torch
Built In Storage
Keep your gear organized all in one place.
No need to tote around extra storage containers.
EASY TO CLEAN
CLEANING MODE
Enable the self-cleaning mode by first getting Big-E™ into operating mode (LED green) and then hold the GO Button and the minus button on the control panel in order to carbonize any residue (LED purple).
Enter the cleaning mode for a couple sessions and then swab down any remnants using isopropyl alcohol.


THE MOST POWERFUL AND VERSATILE CHARGING / RECHARGING / POWER OUTPUT PORT SYSTEM EVER
Whats In The Box